Rye, NY - USA - The final day of racing at the 2011 U.S. National Championship, hosted by the AMERICAN YACHT CLUB (AYC) declared Jason Carroll and his Argo Melges 32 as the new U.S. National Champion. Tactician Cameron Appleton, Scott Norris, Chad Corning, Charles Swanson, Lindsay Bartel, Peter Crawford and Andrew Koch served as crew. Mark Plaxton's INTAC was second, while Takashi Okura's SLED had a tough day on the water slipping back to finish third overall.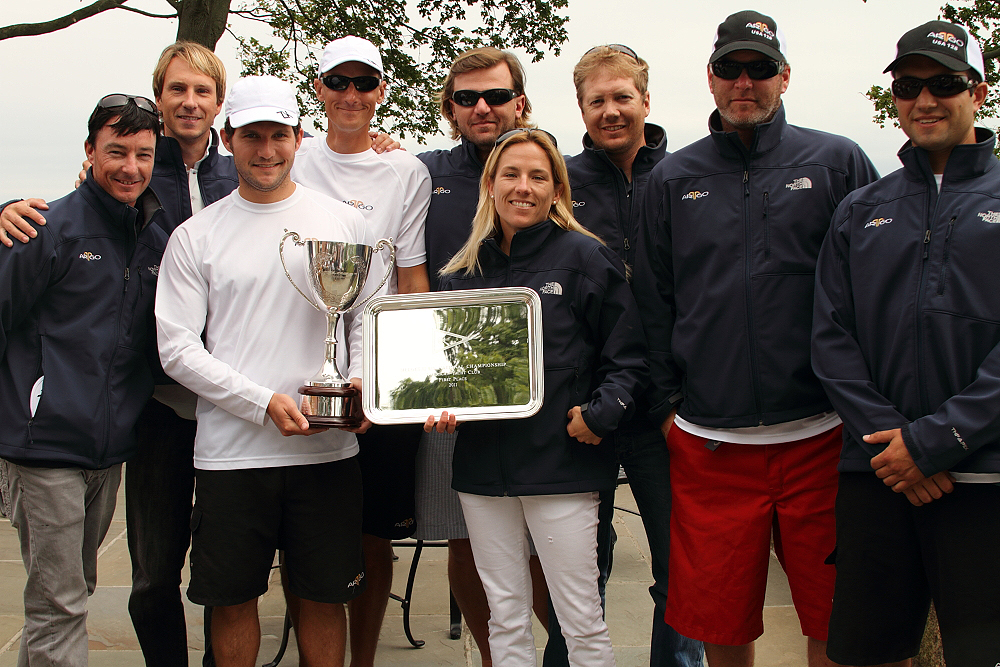 Going into Sunday's races, Carroll led the fleet by an impressive 11 points and the battle for positions second through fifth remained heated. Japan's Okura sat nicely in second place, seven points ahead of Plaxton in third. Rod Jabin on Ramrod was holding on to fourth by one point over Ed Tillinghast on Dark N'Stormy in fifth place.
Light conditions prevailed for the first race of the day with Plaxton grabbing an early lead rounding the top mark in first, with John Taylor's Ninkasi in second and Benjamin Schwartz's Pisces in third. Downwind, Plaxton, Taylor and Schwartz held on to their respective positions through the gate, with a 20 degree course change being implemented. The fleet headed back upwind with Alexis Michas'Zetiana and Schwartz's Pisces staying left enabling them to advance. Michas went on to win, Plaxton took second and a close battle between Taylor and Schwartz transpired right at the finish. Taylor was third by a nose, Schwartz was fourth and Carroll in fifth.
With only one race left, Carroll refrained from participating in the final race knowing the fight for other top positions had intensified.
The final race of the eight-part event series was held under the same light conditions as the first. After two general recalls, PRO Robin Wallace was quick to act on the fleets starting line aggression hoisting a black flag into effect. The clean start put Geoff Pierini's
Shakedown
around the top mark in first with Michas, Schwartz and Plaxton right behind. As the fleet progressed downwind, through the gate and back upwind, Schwartz edged his way to the front of the pack to round the last mark of the day in first. Pierini longed to regain the lead, but hot on his heels were Michael Dominguez's
Bronco
and Plaxton. Schwartz extended his lead ever so slightly to comfortably cross the finish line in first. Plaxton and Dominguez finished second and third respectively.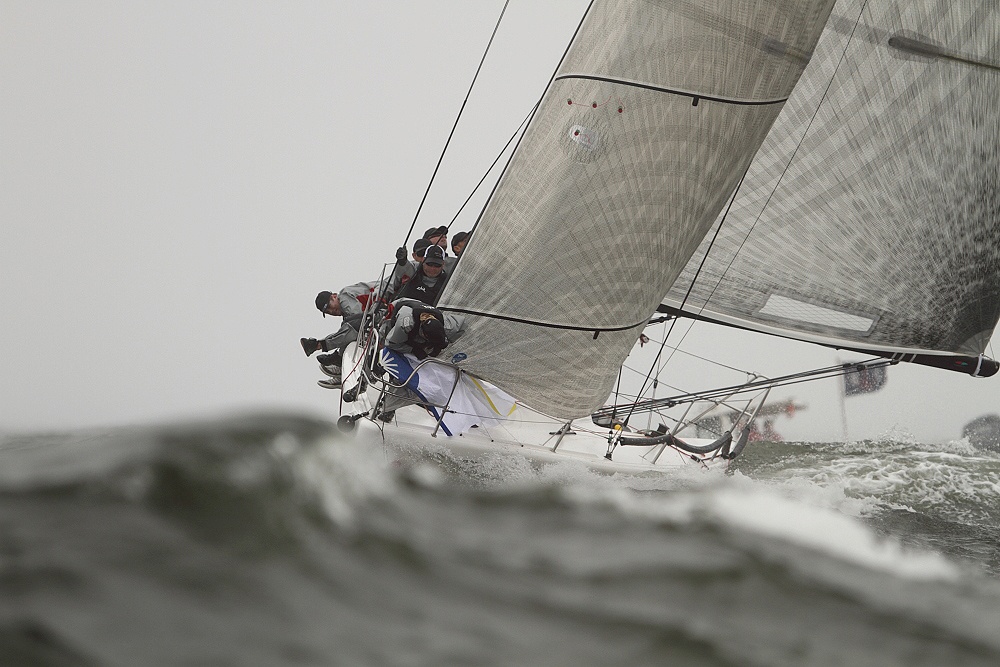 Top Five Results
(FINAL, After eight races)
1.)
Argo
, Jason Carroll/Cameron Appleton; 1-2-1-1-1-1-5-[13/DNS] = 12
2.)
INTAC
, Mark Plaxton/Anthony Kotoun; 5-7-2=3-4-[9]-2-4 = 27
2.)
SLED
, Takashi Okura/Eiichiro Hamazaki; 2-1-6-8-2-3-[10]-9 = 31
4.)
Pisces
, Benjamin Schwartz/Charlie McKee; 8-[9]-8-2-5-7-4-1 = 35
5.)
Ramrod
, Rod Jabin/Chris Larson; 6-3-5-[10]-5-4-6-8 = 37
FULL RESULTS
VIEW THE FULL CREW LIST
OFFICIAL EVENT WEBSITE
VIEW PHOTO GALLERY


A VERY SPECIAL THANKS
The Melges 32 Class would like to extend a sincere and special thanks to the Championship host club, American Yacht Club along with PRO Robin Wallace and his RC team. It was a great Championship due to their key efforts to go the extra mile for the Melges 32 Class. On Saturday night, teams mingled at AYC and thoroughly enjoyed an amazing steak and lobster dinner prepared just for them.
The Class would also like to thank Melges 32 Owner Ed Tillinghast on
Dark N'Stormy
. He is certainly a stalwart and has generously served the class in various capacities since its early beginnings in North America. He had a key hand in planning the 2011 Melges 32 U.S. National Championship and coordinating the U.S. National Championship Trophy to be on hand for the event.
Very many thanks to the generosity of Jason Carroll and the
Argo
tender, most especially our driver Mark Ivey. All photos, facebook postings and reports were brought to you courtesy of the
Argo
program.
As always, the class is appreciative of the strong and ongoing support supplied by builder Melges USA. Harry Melges and Northeast representative Anthony Kotoun were on site taking care of every owner's needs.
USA SAILING SERIES RANKING
With his championship crown in place, Jason Carroll catapulted into the top spot of the 2011 Melges 32 USA Sailing Series. Italy's Lanfranco Cirillo holds on for second. John Taylor's leaps into third.
Top Five 2011 USA Sailing Series Results
(After four events)
1.) Jason Carroll,
Argo
2.) Lanfranco Cirillo,
Fantastica
3.) John Taylor,
Ninkasi
4.) Ed Tillinghast,
Dark N'Stormy
5.) Alexis Michas,
Zetiana
VIEW THE FULL 2011 USA SAILING SERIES
UP NEXT
Don't go far, because next weekend, June 17-19 the Melges 32 fleet will do it again, this time in beautiful Porto Cervo at the Audi Invitational, Event No. 3 in the 2011 Audi Melges 32 Sailing Series.
VIEW THE FULL CREW LIST
---