December 8, 2011
Fremantle, AUS
After a rough start to the day, dropping the first two races, we rallied back this afternoon with 5 wins to take our overall record to 11-3 and a win in the first round robin. The win in the round qualifies us for the quarterfinals. It also guarantees us a top eight finish in this regatta which means we have qualified the USA for the 2012 Olympic Games.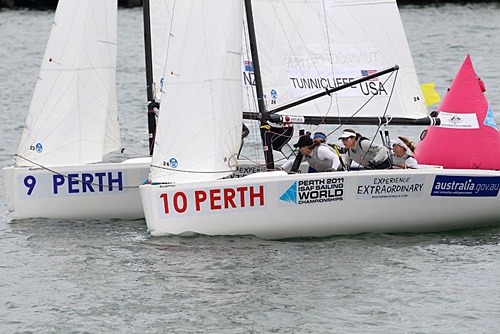 The racing all day was tough and tricky with the wind filling in down the river and around the buildings that line the docks' sides. It took us a while to find our groove upwind and we struggled to make the first crosses in the races. This led to two losses before we sat out for four flights. After we regrouped, we had five hard races ahead of us. We had debriefed our morning's effort and pinpointed the areas we needed to improve or slightly change, and set-to working on these. We had five very close, but great races.


Our closest race was against our training partners, Team Audi Match Race from Finland. We had a split start, with us on the left and them on the right. Upwind, the lead flip-flopped a few times, but we were able to take the lead at the top mark. Downwind, we had a good fight and were able to pin them to the left of the leeward mark to make sure we led around the buoy. Upwind, we again traded the lead, but were able to get them again just at the top mark. Downwind, once again we had a very close battle, this time pinning them to the righthand side of the line. They evenutally broke the overlap on us requiring us to sail to the finishline, but the reach was so tight that they couldn't get around us and we took the race.
The points in our group were such that there was a four-way tie for first on 11 points (we came out on top after the tie-breaks). Only the top two from our group advance automatically to the gold round; the next eight teams head to the repecharge to duke it out with the 3rd-10th places from group B for the final four spots for the quarterfinals. Out of our group, Team Skudina, RUS also advance to the gold round and also qualify their country for the Olympic Games too. Tomorrow, group B will finish their round robin and the top two teams will join us and the Russians in the gold round, a seeding round for the quarterfinals. This will start tomorrow afternoon after group B RR finishes.
And as usual, don't forget, email us your questions and comments. We love getting them and sharing our love of sailing and women's match racing.
Anna: 4D's: "Dream,Desire,Dedication,Discipline" TM
Team Maclaren: 3P's: Passion...Performance...Perfection...TM