December 12, 2011
Fremantle, AUS

It was a short day of sailing today for the gold group round. We started the day with the 1-2, 3-4 seeding races. We were in the 1-2 seeding against Team Leroy from France. We had a a rough day losing the series 2-0 to take the #2 seed heading into the quarterfinals.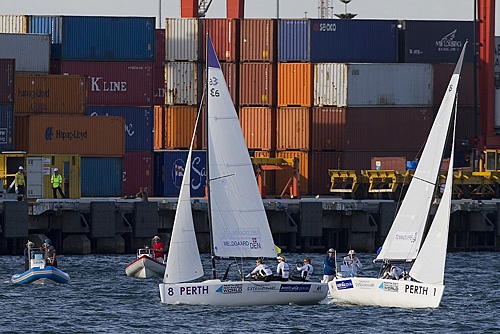 The conditions were tricky, light and extremely shifty as showers moved around the area. We made a few mistakes that cost us the races. We were a little frustrated with our mistakes but learned valuable lessons from them heading into the quarterfinals.

The top four teams are waiting for the repecharge round to finish and the remaining four teams for the quarterfinals to be decided. We will end up racing the team that finishes third in the repecharge (ie 7th seed in the quarterfinals). The plan is for them to finish up tomorrow. Also tomorrow, the gold group will be allowed to practice in the river so we will also be ready for Wednesday's racing.

I will Tweet tomorrow which team we will be racing on Wednesday. You can check on the regatta website for results and a live blog: Perth 2011 ISAF Sailing World Championships (http://www.perth2011.com/) (FYI: Perth/Freemantle is 13hr ahead of EST in the States or UTC+8hr)
And as usual, don't forget, email us your questions and comments. We love getting them and sharing our love of sailing and women's match racing.
Anna: 4D's: "Dream,Desire,Dedication,Discipline" TM
Team Maclaren: 3P's: Passion...Performance...Perfection...TM