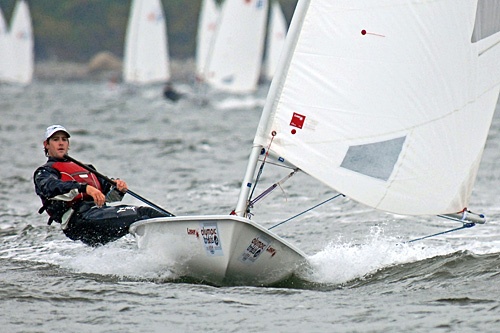 It's been a while since my last report and yes I have been living and breathing Laser life since the Olympic test event! I'm at the Worlds in Perth, Australia and first day is down, finishing with a 6 and 33.
It was not a typical day in Freo, as the locals call it, with storms and a different wind direction than the usual sea breeze. First race, I have a good start a quarter the way down from the boat and wind was consistent with the homework I had done before the start. This put me in 3rd at the top mark. Dicy pressure downwind put me back some boats but was able to hold a 6th all the way around the track.


Wind was predicted to swing right some and started to see the trend so positioned myself on the line for it but at a minute to go to the start, the wind shifted left 15 degrees and fleet just all tacked to port, now the favored tack upwind. It was a three lap race course and next two beats I tried to get a clean lane. However, I was in the 30's and found it hard to pass boats with all the chop and all the good lanes were taken. That's the game in the middle of the fleet, congested roundings whereas the front pack just leaves everyone; they have the smoother water and cleaner wind.


Looking forward to tomorrow. Lots of great, hard racing to do. Never give up; never surrender!


You can follow the sailing via the live blog and check on the results at the regatta website: Perth 2011 ISAF Sailing World Championships

(http://www.perth2011.com/) (FYI: Perth, AUS is 13hrs ahead of EST in the States or UTC+8hr)


Thanks to all my sponsors: Handy Storage, Zhik, Kaenon, Almaco, to you, my readers, and particularly my parents, for always supporting my dream of being an Olympic medalist in the Laser.


If you are able to donate to my campaign and become an integral part of, and share in, my journey, donations/contributions would be very much appreciated. They should be made payable directly to either The Sailing Foundation of New York(tax deductible) memo'd Brad Funk, or to Brad Funk (please contact me directly). Thank you in anticipation.



Brad