December 13, 2011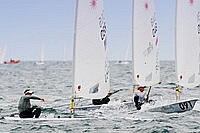 Finally in bed. Hard day. Day 2 wrap-up - squirly wind and waves; finished with a 5th and a 9th.
Cloudy and swirly 8 knots of wind was the order of the day for the first race. In the 30's at the top mark first time round. Conditions were such that I had a flashback to Tenerife, Spain and last month's training with Rasmus and Javier where they taught me how to surf in exactly the same waves that were presenting now. I let it flow and rounded 12th at the bottom. Shifty pressure up the next beat but 'head out of the boat' vision allowed me to climb to 8th then 3rd, settling at 5th and holding to the finish. I'm happy with the result and moving on to next race.

Started below Tom Slingsby, who is winning the regatta, and in my opinion is the fastest Laser sailor alive so far. In the 15 knots of wind, held my own on starboard, the lifted tack, until we got headed close to layline. I tacked first and rounded in 3rd. We had the outer loop. On the reach across, we extended from the fleet a bit and by the jibe mark, all top 5 were within 3 boat lengths of each other. Now somehow, all got pressure except me and they moved away from me down the run. I fought hard but on the third beat, I overheated and fell back to 9th.


Overall I'm very pleased with the day and recovering very well! Off to sleep. Never give up; never surrender!

You can follow the sailing via the live blog and check on the results at the regatta website: Perth 2011 ISAF Sailing World Championships
(http://www.perth2011.com/) (FYI: Perth, AUS is 13hrs ahead of EST in the States or UTC+8hr)

Thanks to all my sponsors: Handy Storage, Zhik, Kaenon, Almaco, to you, my readers, and particularly my parents, for always supporting my dream of being an Olympic medalist in the Laser.


If you are able to donate to my campaign and become an integral part of, and share in, my journey, donations/contributions would be very much appreciated. They should be made payable directly to either The Sailing Foundation of New York(tax deductible) memo'd Brad Funk, or to Brad Funk (please contact me directly). Thank you in anticipation.



Brad