December 14, 2011
Fremantle, AUS

For most fleets racing today, the courses were very shifty and tricky, but the match racers got a great surprise. After a very long postponement, we were moved out of the river to sail in steadier winds. And steadier they were! relative to the inner harbor course on which we have been racing for the last week and a half. With the wind having more of a runway, the race committee could keep up with the 20-30 degree shifts over the normal-sized race course, and were able to get the races off very quickly. We were up against Team Souter, AUS, in today's quarterfinals and came out on top winning the series 3-0.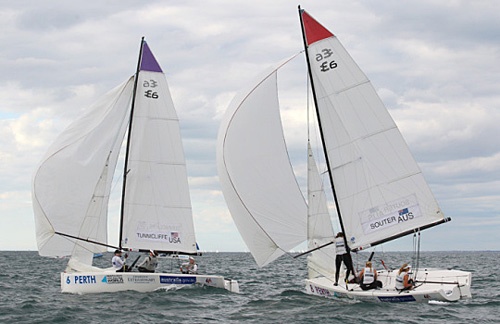 Our closest race with Nicky was the final race. We ended up with a penalty coming out of the dial up, so we knew that we had a lot of hard work ahead of us if we were to still win the race. We got off the line on the favoured side and led up the first beat. Halfway up, however, she wound inside of us and we had to tack and duck her (ie she had passed us). Eventually, as we drew near the top mark, we were able to get the lead back. Downwind, we sailed it just right and pinned her to the right of us, holding her past the leeward mark. This gave us enough room to spin our penalty but she just squeezed inside of us at the mark. We nailed a great rounding, rolled right into a tack, and then came back again on starboard, enabling us to force them to leebow us (tack under us) and then we held them out to the layline. We now had the lead and were able to extend into the first shift and puff downwind and went on to win the race and thus the series. Tomorrow we will race Team Skudina, RUS, in the semi-finals.

We are looking forward to racing again tomorrow. We are again on a different course, but one that is outside of the river.
And as usual, don't forget, email us your questions and comments. We love getting them and sharing our love of sailing and women's match racing.
Anna: 4D's: "Dream,Desire,Dedication,Discipline" TM
Team Maclaren: 3P's: Passion...Performance...Perfection...TM