Fremantle, AUS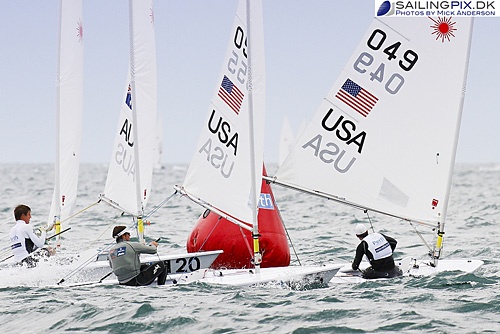 Day 3. A race counts if the PRO sees fit, even though the racers want to abandon the race!
The reason I say this is because during our first race today, I had climbed to 15th by the first leward mark. But then 40 degree shifts began to materialise with very little visual on the water; at least not enough to give time to position for them so dropped to 23rd.


Arthur (coach) helped me to keep my composure and had me focus on my strengths. I realized that this next race may be one of the most important Laser races in my career, so I said, "I'm gonna have fun no matter what happens". Planned my first beat, using the last 2min before the gun to observe the fleet ahead which was showing a big up-angle on port, indicating left shift and pressure. Was fifth boat up from pin and nailed the start in 10 to 12kt. Second at top mark; maintained until second weather mark when I passed the Swede downwind and held him off on the third beat and last run. Felt good to win one; it's been a long time and everything just flowed. And what's funny is I told myself 30 seconds after the start, "I'm gonna f***in' win this race".


Into gold fleet; two races then a layday. G'night. Never give up; never surrender!

You can follow the sailing via the live blog and check on the results at the regatta website: Perth 2011 ISAF Sailing World Championships (http://www.perth2011.com/) (FYI: Perth, AUS is 13hrs ahead of EST in the States or UTC+8hr)

Thanks to all my sponsors: Handy Storage, Zhik, Kaenon, Almaco, to you, my readers, and particularly my parents, for always supporting my dream of being an Olympic medalist in the Laser.

If you are able to donate to my campaign and become an integral part of, and share in, my journey, donations/contributions would be very much appreciated. They should be made payable directly to either The Sailing Foundation of New York(tax deductible) memo'd Brad Funk, or to Brad Funk (please contact me directly). Thank you in anticipation.



Brad