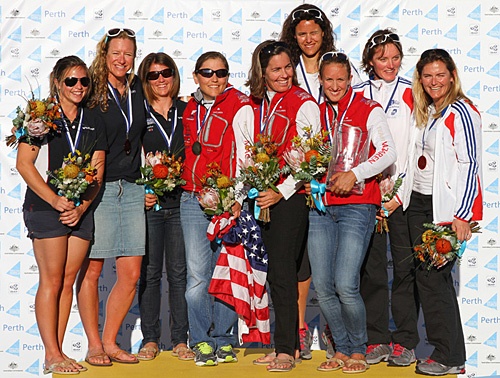 Team Maclaren USA (centre), Team Macgregor GBR (left), Team Leroy FRA (right)
We had four very good and tight races that provided great spectating for the crowds. All the races were very close, but ultimately we came out on top all four races.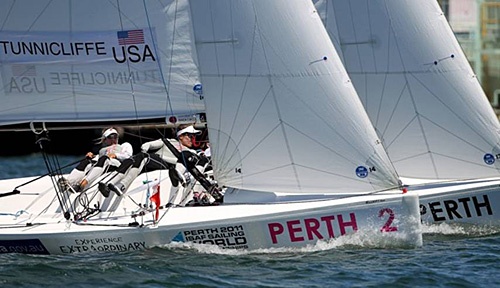 The first two races came down to penalties that Team Macgregor got, either in the pre-start or on the race course.
(Photo: copyright Richard Langdon/OceamImages 2011)
After the third start, Lucy had a couple of lengths lead that she extended on us. Up the second windward leg, we caught back up and rounded right behind her at the top mark. Downwind, as we sailed in very close quarters, we drew a penalty on her and won that race too. The fourth race was similar, only the positions were opposite. We had the great lead off the line, which she closed up on the second lap. Downwind, going for the finish, we sailed clean of penalties. Lucy got a puff and a surge of speed as we closed the line but we just managed to squeak ahead and the race ended with us crossing the line, literally, only inches in front of her.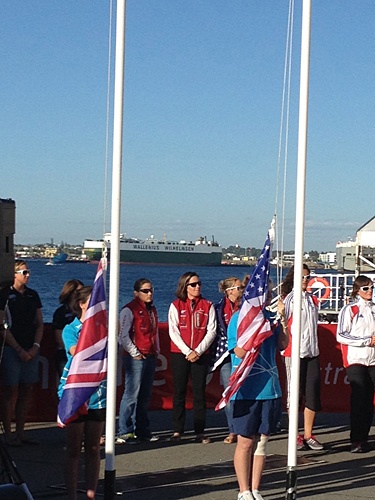 We are so excited to have won. This is Molly's and my first World Match Racing title, and Debbie's third. The girls did an amazing job around the course and put us in great places.
(Photo: Dana Paxton/US Sailing)
Tomorrow we have to put the boats to bed in a shipping container before we head back to the USA for the holidays.
In addition to our sponsors, we would like to thank, Rich, Nick, Liz, and Greg from Sail Sheboygan for all of their hard work with the fleet of Elliott 6m's this week. Also to Terry Kohler for his donation of the fleet for this event. And thank you Perth for a wonderful event. And to Coach Dave Dellenbaugh.
And as usual, don't forget, email
us your questions and comments. We love getting them and sharing our love of sailing and women's match racing.
Anna: 4D's: "Dream,Desire,Dedication,Discipline" TM
Team Maclaren: 3P's: Passion...Performance...Perfection...TM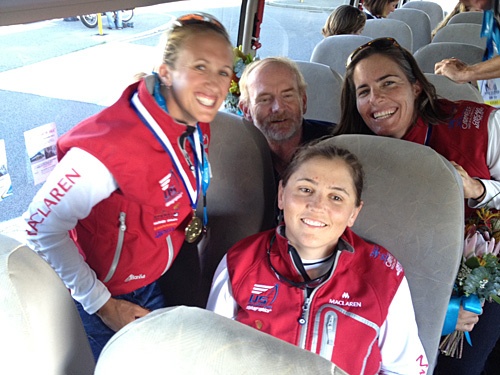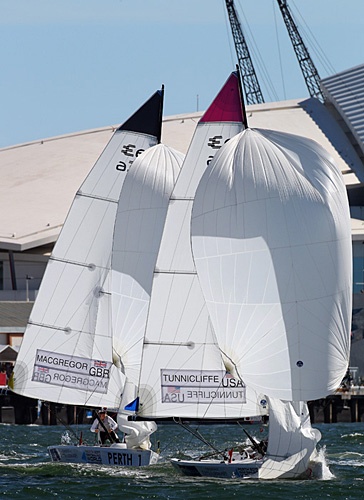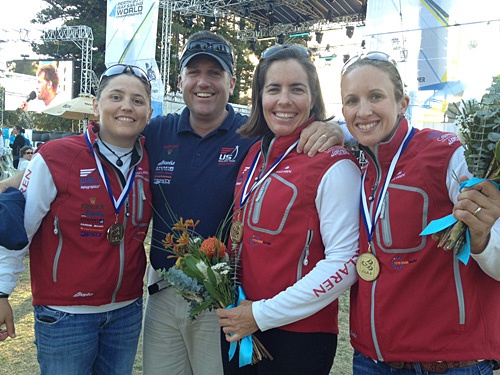 Top Left: Team Maclaren with Coach Dave Dellenbaugh (photo: Dana Paxton/US Sailing)
Top Right: Team Maclaren Leads Team Macgregor Towards The Finish Line (photo: Richard Langdon/OceanImages)
Bottom: Team Maclaren With Dean Brenner, USSTAG Team Leader (photo: Dana Paxton/US Sailing)