Team Maclaren received some great news today. Anna was awarded US Sailing's 2011 Rolex Yachtswoman of the Yearaward. The announcement was made earlier today after a panel of journalists evaluated the resumes of all of the nominees. The team would also like to extend congratulations to the Rolex Yachtsman winner, Bill Hardesty.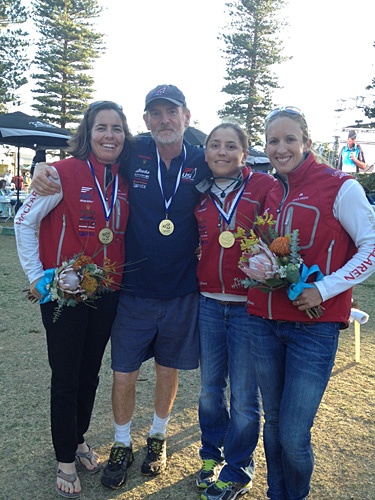 Team Maclaren: Molly Vandemoer, Dave Dellenbaugh, Debbie Capozzi, Anna Tunnicliffe
Photo: (copyright) Dana Paxton/USSTAG 2011
"I am very honored to have won US Sailing's 2011 Rolex Yachtswoman of the Year award. It is a great aknowledgement of Team Maclaren's success in 2011. Molly, Debbie, Dave and I worked incredibly hard to achieve our 2011 goals, and we are now focusing on our 2012 goal - winning a gold medal in Weymouth."
The awards will be presented during a luncheon on February 22 at the St. Francis YC in San Francisco, CA.
In the meantime, Team Maclaren has started training again in Miami, FL, to get ready for the second stop of the ISAF Sailing World Cup, US Sailing's 2012 Rolex Miami OCR Regatta. We are here training, in the mornings, with Team Audi Match Race and doing afternoon races with Team Mulder from the Netherlands. So far, the sailing has been beautiful, and productive, with both sunny days and lighter air, and cloudy skies, big winds and a nice chop. More and more teams are gradually showing up after taking a much needed break after the World Championships in Australia only 3 weeks ago. The first day back in the boat wasn't too bad fortunately, although now, a few days later, it feels much better.
We are looking forward to the next couple of weeks of training as we start to work on our weaker areas, identified during the Worlds. We will write another blog before the regatta to let you know how practice and regatta preparation is going.
And as usual, don't forget, email us your questions and comments. We love getting them and sharing our love of sailing and women's match racing.
Anna: 4D's: "Dream,Desire,Dedication,Discipline"

TM
Team Maclaren: 3P's: Passion...Performance...Perfection...

TM